Product Information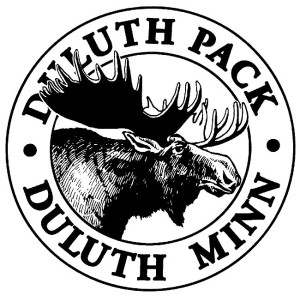 Description
You'll feel the heritage behind this traditional voyageur pack.  The Scout is a scaled down canoe pack originally thought-up by a Fashion Editor for the New York Times, and a long-time Duluth Pack fan.  This ruggedly simplistic backpack takes you from the trail to the sidewalk.  Perfect for day hikes, your commute, cycling, school, and everyday.
Traditional envelope style for a surprisingly spacious interior with minimal bulk.
Inner hang pocket for easy access to small items.
Riveted leather reinforcements to make it a multi-generational heirloom.
Hand constructed 15-oz. canvas for durable quality and heritage "better-with-age" aesthetic.
DIMENSIONS:  17H x 14W
CONSTRUCTION:  15-oz canvas, envelope style design, premium leather reinforcements and flap straps, high quality roller buckles, zippered pocket
Inspired by Duluth Pack's traditional envelope style packs, they made the Scout out of the same 15-ounce canvas and premium leather that go into each and every canoe pack they build by hand in Duluth, Minnesota.  This pack has an ultra slim silhouette.  The roomy main compartment and small interior zippered pocket make the Scout Pack great for organizing everyday necessities such as keys, a laptop, or a small guidebook.
Of course, like all of Duluth Pack's bags and packs, the Scout is ready to hit the trail at a moments notice and will become a trusted companion for both urban and outdoor adventures for years to come. Whether you're searching out a new fishing hole or a hole in the wall bookstore, the do-it-all attitude of this daypack will get you where you need to go in heirloom quality that will only get better with age.  Made in USA.
Duluth Pack has continuously handcrafted hunting, shooting and outdoor gear in Minnesota since 1882.  The quality, time-tested craftsmanship & hardware are guaranteed for life.   Duluth Pack strives to make the world's best high-quality canvas and leather packs, luggage, purses and briefcases, and will continue to make them in the USA with a lifetime warranty.