Product Information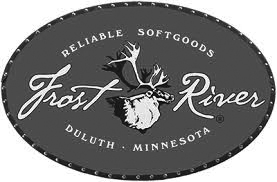 Description
Looking for surprises… how 'bout value?  Frost River's model tote is full of utility.  Not many add-ons or fancy features, just the steadfast reliability of waxed canvas and cotton web.  Pockets on the short sides add storage potential.  The Lake Huron works– just as expected.
What do hauling groceries, lugging your library books, and carrying your latest quilting project have in common? They all require the simple functionality of our Lake Huron Tote: durable, heavy duty construction with comfortable web handles. Double waxed canvas bottom.
Size:  15″h x 14″w x 6″d.
Volume:  1260 c.i.
Handles:  Two cotton web.
Exterior Pockets:  Two slip pockets
Base:  Double Canvas.
Materials:  18-oz. waxed canvas; cotton web.
Made in the USA.
Frost River products are hand-crafted and made without compromise from the highest quality components.  Their forefathers knew what Frost River knows now: That deep forests, driving rains, drifting snows and rock-strewn portages do a great job of helping you sort out your character and find the parts of you that really matter.