Product Information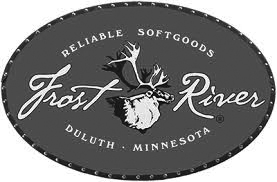 Description
Bushcrafting? … consider the Isle Royale Jr. Bushcraft Pack.  This rugged waxed canvas pack is overbuilt for years of service in the outdoors, so you know it'll last wherever you use it.  Available in this perfect size, you can carry a little, or a lot.  It's made at Frost River from classic waxed canvas; here's a bag that'll last and be at your side for years.
Bushcraft – wilderness self reliance skills… Being able to not just survive but thrive in the bush (meaning woods).  For some it can take a lot of gear to thrive, and for that reason Frost River's Isle Royale Jr. Bushcraft Pack is built to carry big loads.  There's plenty of capacity in the tall, narrow pack body.  The buckskin padded backstraps are distinctive and comfortable.  Twin 2-in-1 pockets straddle an axe sleeve on the front of the backpack.  Solid brass rings with braided cord run up both sides for compression.  Lash points at the top and bottom (four lash squares on the bottom of the Isle Royale Jr.) provide points for gear to be tied to the outside of the pack.
Size/Volume:  18″h x 15″w x 6″d, actual 1620 c.i. Expanded volume, 2916 c.i.(approx.)
Pocket Size:  10.5″h x 5″w x 3″d
Closure:  Internal rain flaps, large flap over main compartment.
Shoulder Straps:  Harness leather, foam pad, buckskin, plus sternum strap.
Exterior Pockets:  Two 2-in-1; two Slip pockets.
Interior Pockets:  One internal map pocket.
Compression System:  Leather strap and buckle, cord, and D-rings.
Base:  Double canvas.
Weight:  5.5 lbs. (Approx.)
Materials:  18 oz. waxed canvas; premium leather; solid brass hardware.
Made in the USA.
Frost River products are hand-crafted and made without compromise from the highest quality components.  Their forefathers knew what Frost River knows now: That deep forests, driving rains, drifting snows and rock-strewn portages do a great job of helping you sort out your character and find the parts of you that really matter.