Product Information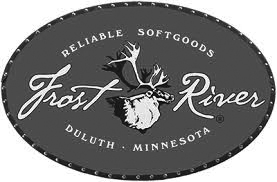 Description
A big canoe pack with 2-in-1 pockets.
A big pack to haul big loads, the Timber Cruiser is an Old No. 7 with 2-in-1 side pockets. All the standard Frost River canoe pack features are there… Padded backstraps, 18oz. waxed cotton canvas, double bottom construction, solid brass hardware, and hand pounded harness rivets. Guaranteed reliability combined with side pockets equal one great canoe pack. Works great when paired with a pack basket but it is not standard equipment. 20″ Ash Basket available separately.
One internal map pocket
Two exterior pockets
Internal rain flaps
Harness leather, foam pad, buckskin shoulder straps
Double canvas base
Solid brass hardware
Dimensions:  23″ h x 21″ w x 6″ d, (2898 cubic inches); Expanded volume 5216 c.i. plus side pockets
Weight:  7 pounds
Frost River products are hand-crafted and made without compromise from the highest quality components.  Their forefathers knew what Frost River knows now: That deep forests, driving rains, drifting snows and rock-strewn portages do a great job of helping you sort out your character and find the parts of you that really matter.