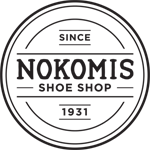 For over 80 years, Nokomis Shoe Shop, a family-run business, has provided quality products, unparalleled customer service and a shopping experience that is truly unique.
Through the years  our business has grown and today we carry a wide selection of brand name work and outdoor footwear, clothing, and other unique gift items. As our customers know, we're a one-of-a-kind operation.
In 2003, we opened a second location in Crystal, MN.
In addition to our two locations, we also operate two fully-loaded mobile shoe trucks that service numerous on-site customers. The family is still involved in day-to-day operations, overseeing and selecting our inventory of high-quality products and ensuring individualized attention to our customers.
The days of second quality shoes and returns thrown on a pile in the back have long since passed, but our competitive prices and value remain the same.
When you visit one of our stores, you'll be greeted by a friendly, knowledgeable staff. While browsing, you can get fitted for a pair of work boots, pick out a pair of amazing wool socks, or shop for a huge assortment of gifts and clothing.
From our humble beginnings, we've grown into a destination store that is worth the trip.