Product Information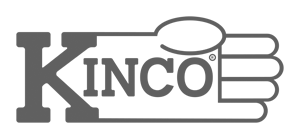 Description
The Kinco Lined Grain Pigskin Leather Palm with Knit Wrist Gloves feature the following:  Trademarked Otto™ striped cotton-blend canvas on the back-of-hand offers lightweight, breathable coverage.  Golden premium grain pigskin protects the palm with exceptional durability, and due to its porous nature, remains soft & flexible after getting wet.  Comfortable, form-fitting 100% polyester elastic knit wrist at pulse-point, helps to retain warmth where heat often escapes the body, and prevents dirt and debris from infiltrating the glove.
Shirred elastic tightens the shell material to the shape of the hand above the widening of the palm & provides an additional preventative measure to block particles from further entering the glove
Golden grain pigskin knuckle strap provides added protection from bumps & abrasions
Wrap-around index finger design creates increased durability & comfort, & ensures that the high-rub areas on the exterior of the finger are not compromised by potential thread or seam failures
Golden premium grain pigskin patches at the distal end of the fingers provide a protective barrier around the fingernails & fingertips, which reinforces the base material & seams for added wear
Leather welt at high-contact base of middle & ring fingers reinforces seam strength & durability
Angled wing thumb design, which is seamless between the palm & thumb, offers additional flexibility & comfort
High-performance signature Heatkeep® thermal insulation, laminated with a soft TR2 inner lining, provides superior heat-retention by trapping heat, repelling the cold, & wicking away moisture
Kinco is a second-generation family-owned business in Portland, Oregon, making quality work, safety, garden, and thermal gloves since 1975.  Every item is carefully designed to ensure the right grade of leather or weight of fabric is used.  A more expensive keystone thumb design is used because they know it offers greater ergonomic hand comfort and longer wear!